Choose from between 3 and 5 Years of Coverage. 50,000 Miles - 150,000 Miles Plans Available
USED COVERAGE: If the bus is current model less 8 years, less than 150,000 miles and no remaining factory warranty. Contract must include Bus Master Warranty Inspection Form, ECM Fault Code Report and last 4 quarter DOT inspection reports.
Please take a moment to review the plan options, optional coverage and covered components below.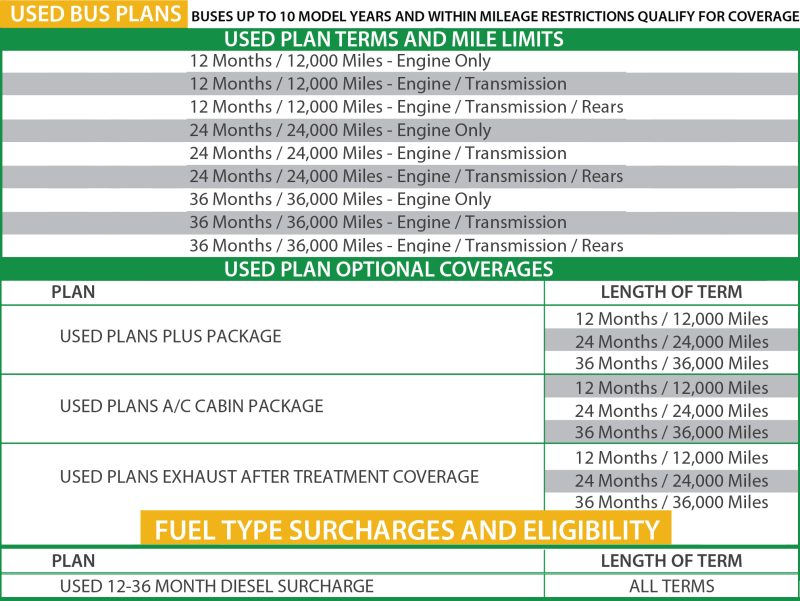 All vehicles must be 8 calendar years or less and cannot exceed maximum starting miles. All vehicles must pass inspection requirements to be eligible for coverage. Inspection report and ECM FAULT CODE HISTORY REPORT printouts are required. Pre-existing conditions will not be covered. Vehicles identified as a total loss, rebuilt, flood damaged, salvaged or are non US specification will not be covered. All plans have a $250.00 per occurrence deductible.
This is not a Contract or Vehicle Service Contract. Certain limitations apply. Refer to the actual Vehicle Service Contract for specifc coverage detail, exclusions and limitations. Information provided is subject to change without notice. Bus Master Warranty is not responsible for any errors or typos. This document is property of Bus Master Warranty. This material is highly confdential and private. It should not be shared, reproduced, disseminated or distributed in any manner whatsoever.